Guerlain is synonymous with luxury skincare, beauty products and of course, exclusive fragrances. We're always looking forward to the maison's new releases and for the season, in-house perfumer Thierry Wasser mingled with notes of lily of the valley (i.e. muguet) in the heart of a brand new fragrance, titled Muguet Millésime. With chords constructed around freshly cut roses and green notes, the composition aims to combine freshness with elegance — all in a beautifully-crafted bottle.
Here, Wasser speaks exclusively to Buro. Middle East's contributor Farouk Chekoufi, about the new scent…
Guerlain launched a new perfume, Muguet Millésime. Can you tell us about how the fragrance came about?
It comes from the annual meeting we have for generations with our customers. The annual Muguet fragrance became a tradition.
How would you describe the fragrance?
It is very much like a picture of a Lily of the Valley, but mine is a bit greener, because I love lush green note! I describe this fragrance as happy and fresh with the Muguet smile!
What can you tell us about the notes of the fragrance?
You might or might not know that you don't have any extraction of Muguet, it doesn't exist. The Muguet smells wonderful, but you cannot get an oil out of it. You have to recreate the scent of Muguet. So, it is always a manmade scent. Regarding the notes of Muguet, you play with roses, with fresh lily notes, and a little bit of green, and hopefully you achieve a Muguet. That is why there are so different types of Muguet, because it is manmade.
How did the first Muguet for Guerlain first come about?
In 1908, Jacques Guerlain created the first Muguet for the House. For a very long time, it was his formula, running every year on May 1st. Then, his grandson created his own version. I looked at what Jacques and Jean-Paul did, and I created my own version. In the 21st century, there are new scents or new molecules which did not exist at the time, and I played with them.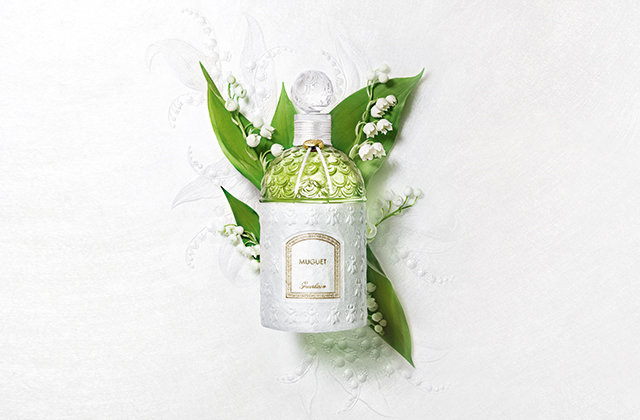 What makes a Guerlain perfume so unique?
Guerlain has celebrated its 190th anniversary last year. Since 1828, the five generations of perfumers have created an important amount of history, heritage and know-how, with the best raw materials and created over 1100 fragrances.
What was it like growing up in the industry?
Growing up in the cosmetics industry is quite challenging every day. Guerlain is a Maison specialised in fragrance, makeup and skincare for 190 years now. Throughout the years, the Maison has always innovated in paying tribute to its heritage and its patrimony. And this is what makes this Maison so exceptional to me — mixing the past and future so perfectly. Regarding my day to day work, I love that we can bring joy and happiness to our clients.
Are there any interesting innovations in the perfume world?
Of course! Like in every industry, you have sometimes ground-breaking innovations, and I think that the new technologies to extract from natural plants, new substances, like the C02 extraction, give you a beautiful scent of peppers, woods and spices.
What's the key to a great Muguet?
The key to a great Muguet is the smile. The tradition in France is to offer Lily of the Valley every May 1st — it is a lucky charm. It's all about giving and demonstrating love.
In your opinion, how important is the name of the perfume?
Actually, the name of the perfumes is always important because it has to represent truly what the intention of the creation is. For Muguet, it is important to keep the tradition.
Now, in other beauty news, find out which celebrity was recently announced as YSL Beauty's new fragrance ambassador.