The skincare market is an ever-growing domain with more brands unveiling more products promising better results almost weekly. So how do you cut through the clutter and build a loyal following of consumers? You make one cult product to get their attention, and then back it up with an equally impressive range as was the case with Alpha-H. The Australian owned and operated brand's hero product is called Liquid Gold, however the success of the brand is not simply because of one product (although one bottle is sold every minute worldwide) but rather the brand's no-fuss approach to great skin.
Michelle Doherty is the woman behind the brand, which operates out of the Gold Coast, Australia, and she started the business after experiencing cystic acne for all of her teenage life. Discovering glycolic acid changed her life, and in turn, she set out on a mission to help others who found themselves in the same position. Michelle is in town today and we caught up with her to talk about the brand's incredible success, sustainability and why a simple skincare routine is the way forward.
Why did you launch the brand? What gap did you see in the market?
I was in such a negative place with my skin, I couldn't look at myself without loathing what looked back every day, and I got into a really negative cycle where I was scrubbing [my face] and using things that were really aggressive on my skin and it wasn't until I was introduced to Glycolic Acid that I felt like all of my prayers had been answered. It was one product that changed everything about my skin and that happened over a four-day period. When you've spent your whole teenage life looking for something that would help improve your skin other than taking medication or prescriptive pills, it was a real game-changer for me. I'd gone through 14 years with such a low self-esteem with my skin that it was almost like a dawning, and I know that sounds like cliché but I found my journey in life and I've continued on with that.
What was the education process around the use of Glycolic Acid for consumers?
It was tough. And do you know what? It still is tough. People are fearful of something that is that great. I remember a lady ringing me to tell me she had sent the product back because she said, 'It's not natural — my skin is clear!' People have this mind-set that high-end prestige brands are going to do all of these things but they don't. Unless you've got exfoliation in your skincare at a meaningful level, you're never going to see a change in your skin. You have to take away the old, that outer layer, in order to see the new.
I still defend Glycolic, I defend the tingle but you're never going to change skin by putting fluff and puff on it. There's a lot of great skincare brands out there, every skincare brand has got a place, but often those brands are only good if you've got good skin. Where, and who, do you go to when you don't? I guess that's the corner that we've captured because I'm so passionate about it. If it doesn't turn my head with results then it doesn't become a product that sits within the Alpha H family.
It's refreshing to have someone producing products when they fully understand the emotions and experience behind the skincare journey…
Yes and it's about also being brave enough to say, 'Hang on a minute, in order for me to get this outcome for my customers, I'm going to have to cause a little bit of lower layer trauma' because it's like setting the reset button. When you create that controlled and measured trauma in the lower layers, the skin self heals and it resets itself to normal. You can't do that with fluff and puff, that just sits on the surface on the skin. And that's the last thing you want in this environment. Products that sit on the skin are going to not be aesthetically nice for our customers to use here in the Middle East. They want products that are lightweight, easily and quickly absorbed and help improve the function of the skin.
I think that it's so simple that people think it's too good to be true. But why wouldn't you want to wake up in the morning and think that your skin looks the best it can be without having invasive procedures like microdermabrasion or advanced peels?
The 'fluff and puff' products that you mention have a lot to answer for when it comes to consumers impatience in regards to beauty products working, particularly if they've paid a lot of money for them. I know you're passionate about keeping the costs down — what is the time frame for people to see results?
We create products that change the look, feel and texture of the skin overnight. So our customers feel that they have finally found something [that works]. It's a journey. And if they come to Alpha H, we're on this journey together.
And it's important that you've also been on this journey and know the frustrations that come with trying to get good skin…
It's so disheartening to spend your hard earned money when you've been promised something and it never delivers. I feel as a small, dynamic brand we are so accountable because if we didn't work, we'd be gone. This brand stands alongside the biggest multinationals but we've had to create genius formulations to stand out because we don't have the marketing budget or the resources behind us to withstand backlash so everything that we create and do is socially responsible and we're accountable. We want people to see a change in their skin.
You're introducing a new product Beauty Sleep Power Peel that has 0.5% retinol in it. Is this the first time you've used retinol?
No we've been using retinol for years. We're really excited about the Beauty Sleep Power Peel — it's got cult status in the UK and in Europe. It's the most powerful potent product that we've bought to the market that lessens the urgency of having more invasive procedures. So if you're considering laser or derma-rolling then this would be the last stop before you cross the road. We're talking about 14% Glycolic and 0.5% retinol, the two ingredients in our pH are compatible and they work. They're the gold standards, along with SPF, in anti-ageing.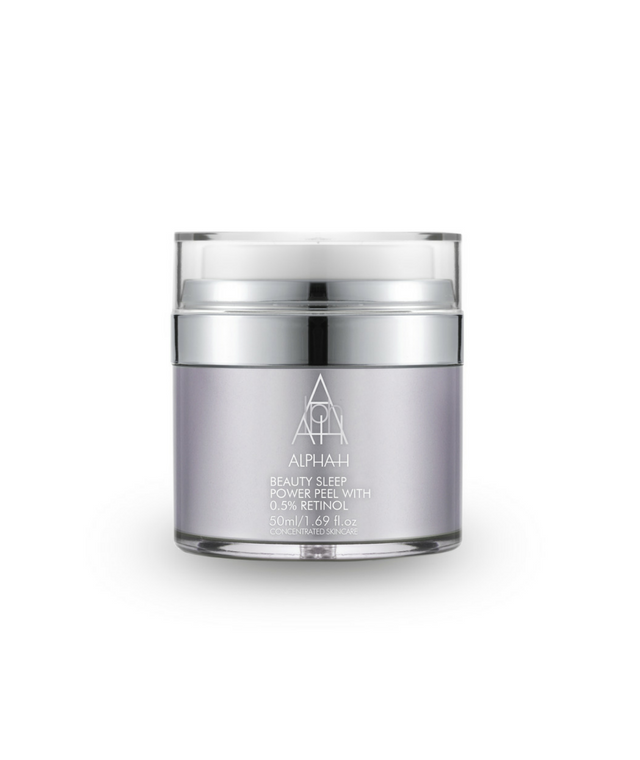 Is the product for a specific skin type?
I think it's for a skin that's starting to exhibit early signs of aging, like fine lines and wrinkles. That's when you really want to get into active skincare is when you look in the mirror and can identify a shift in your skin. I'm very pro-ageing — I want to look the best that I can at 55, be really happy with my skin and not feel the need to go under the knife. For me it's not an option. I want to age gracefully but look the best that I can.
Liquid Gold is the cult product of the range — what makes it so popular?
It's the game-changer, for anyone. It's a great formulation — it's got Glycolic, licorice, amino acids but it's also got alcohol-denat in there. I think, unfortunately, it gets a really bad rap in the skincare industry but what alcohol-denat does is that it never penetrates the skin but flashes off surface oil. It's the most effective ingredient to remove any outer barrier that will stop your ingredients from penetrating further into the skin. Once we remove that surface film, the Glycolic and the licorice can get into the lower layers and go to work really quickly. It's really about adjusting the skin's pH. If you take the skin out of its comfort zone, the first that it wants to do is self-correct so we're forcing it to reset and normalise. It gets the skin performing at its optimum function. I think that it's so simple that people think it's too good to be true. But why wouldn't you want to wake up in the morning and think that your skin looks the best it can be without having invasive procedures like microdermabrasion or advanced peels?
Don't get me wrong, we have every modality of exfoliation. We manufacture our own microdermabrasion machines, we've got three different strength peels — a 30%, 40% and 50% — pure enzymes, lactic, salicylic, however the Glycolic is the most efficient at changing the skin in the lower layers and at the same time giving you an immediate surface improvement.
The strong peels you mentioned, are they available for purchase or are they only for use in clinics?
We work with over 1,000 clinics around the world so those [products are made for them]. You know what really worries me in this industry now? There's a lot of self-professed facialists who have been able to get their hands on strengths that have been created to be used in the back end of a skin clinic and I become very fearful when I see people being able to readily buy 30% Glycolic peels when I don't believe anyone should have access [to those products] unless you're a trained beauty therapist.
It's worth noting that every single one of our products has a complete safety assessment which means that it's been reverse engineered, every ingredient is compatible with one another… That's important too. When you're working with active ingredients, you have to ensure that the retinol and Glycolic are compatible and that they're protected.
What are the biggest skin concerns from your customers in the Middle East?
Pigmentation. We see a lot of toxic skins [particularly[ through wearing a lot of make-up. We understand that the application of makeup here on women in the region is beautiful but often it's not being removed effectively so we really do bang on about double cleansing at night because makeup today is formulated to stay on the skin which means we have to take extra measures to clean that off the skin thoroughly and we find that people aren't doing that. They think that one cleanse is enough to take off makeup that's been designed to stay on the skin for 24 hours. You've really got to double cleanse — the first is to remove the makeup, the second is to cleanse the skin. You want to ensure that the canvas is as clean as it can be.
Especially if the canvas is already temperamental — you don't want to annoy it any more!
Yeah absolutely. And you want to work with ingredients that are pH-balanced to your skin. I'm not a big fan of toners, for me personally I feel that as a professional beauty therapist, that it's a step that's not required if you've got a good cleanser.
So for you the steps are cleanser, serum, moisturiser?
Yes that's right. Or, cleanser and Liquid Gold.
It's very expensive to become sustainable so we are going to start running these campaigns called #MakingADifference and although we're not a big global, multi-national brand, the little changes that we can make as a company will make a big change overall.
Do you need to use moisturiser after Liquid Gold?
No. I think the thing with the Liquid Gold, is that on those three nights that you use it you rest your serums, toners and creams, and put your Liquid Gold on and it works as a chemical peel but its also working in the lower collagen belt to ensure that you're creating self-moisture from within. If you were to put a moisturiser over the top, you'd stop it from working straight away because when you put Liquid Gold on we drop the skin's pH so the minute you put a cream on, you've adjusted the skin's pH. So you can put whatever you like on the following morning or the next night but that night, it's just the cleanser and Liquid Gold. And people love it. They look forward to those 'lazy girl' nights.
When you were speaking to the press earlier this morning you mentioned you're focusing on sustainability. How are you doing that?
We're really looking at moving all of our packing over to using recycled plastics that can then be recycled on afterwards. We're looking at sourcing our ingredients from Australia, we've got our own water plant. We're very mindful of the global shortage of water so we're creating waterless products so we've got wonderful Liquid Gold Resurfacing Body Cloths, that's waterless skincare, waterless exfoliation and the cloths are recyclable and biodegradable. We also have all of the solar heating in our factory now so we're not using any power to run our whole plant. We're really trying to be mindful of that.
It's very expensive to become sustainable so we are going to start running these campaigns called #MakingADifference and although we're not a big global, multi-national brand, the little changes that we can make as a company will make a big change overall.
Plus, if you look at all of our products, they're all multi-functional. So the cleanser eliminates buying three products so that's another way we contribute to being sustainable. I could sell you a cleanser, toner and an eye makeup remover and there would be more packaging in the world but what we're doing is that we're creating one product that has three functions. There's not one product we have that doesn't perform multiple steps.
Plus, I don't like to over-layer the skin because with every layer you're putting on another layer of preservatives. I'm really minimal. As much as we have a large range of products, that's to accommodate every person that we can help. But I would never tell you to own 10 products. That's probably why we don't own a boat [laughs].
Our price points are really, really affordable. And because I come from a professional beauty background, I want to create what the skin needs, not what I need to have a better life.
Are the products unisex?
Yes very unisex. You'll see even in the packaging that it's very gender neutral.
Do you find that it's purchased more by women than men?
At the moment, yes. But a lot of men are getting more into skincare now and they want cosmaceuticals. They don't want to put a lot on their skin but what does go on their skin has to work and Alpha-H ticks those boxes.
People always ask me if I'm going to create a men's skincare range and I say, 'Why would I?' I don't need to. Yes, their skin is different but the ingredients are still going to be the same.
What are the new launches coming up for this year?
One thing that really excites me is the beautiful Liquid Gold Firming Eye Cream. In order for anything to go into the Liquid Gold franchise, it has to be kick-ass great. We created a product with four different peptides as well as seven skin-brightening ingredients. We've also got a Snap 8 in there, which is probably the only peptide that's been likened to a muscle relaxant topically. For those that are wanting to see an improvement in their lines, wrinkles, pigmentation and milia, they can rely on this product. For those that are considering botox or fillers, I'd give this a try because you never know what a topical application can do until you give it a try.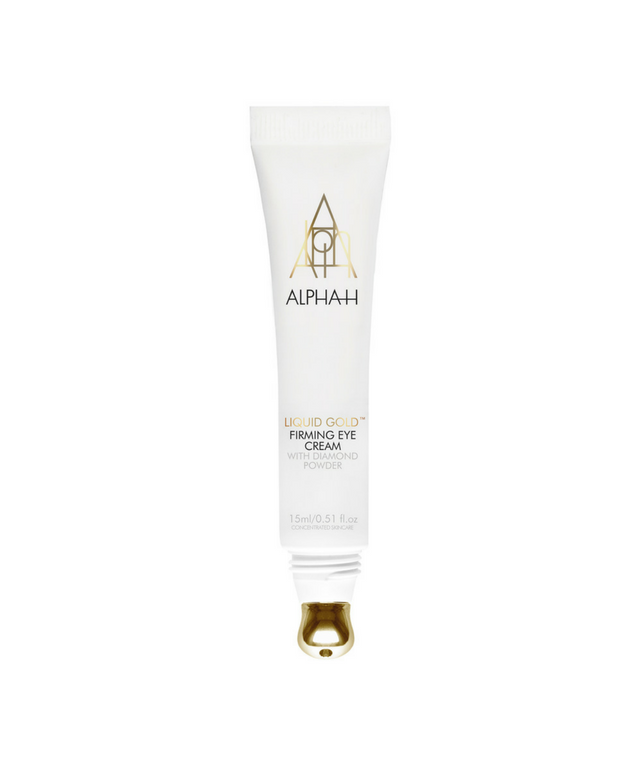 Alpha-H skincare is available in Bloomingdale's — The Dubai Mall.
Now, find out which Spice Girl is launching her own skincare line.