Founded by Ash Huzenlaub, a man who confesses to being an outsider when it comes to beauty, Commodity fragrances has brought together a team of experienced artisans from around the world to create unisex fine fragrances and candles, all complete in a minimal-yet-very luxurious aesthetic.
Ahead of the brand's official launch in Sephora boutiques across the Middle East, the Founder sat down with Buro. Middle East to speak about the brand itself, a funny story as to why the Middle East was the next region to tackle and what to expect next…
Talk us through the inspiration behind launching Commodity Fragrances…
So when you look at the ethos of Commodity, what we did was create a platform for artisans who actually create the products [so they] could come and create freely without any guardrails or restrictions of marketing, trend reports or cost restraints. In 2014, we thought that in two years we would've already been in skincare and colour cosmetics and lifestyle, but what happened was I caught a little train, like a little dog (laughs), called Sephora and in March of 2015, I launched in 26 stores not sure if I was ever going to see a 27th, but fortunately, the fragrances really resonated with consumers and we thought we were only going to have six months to plan for potential additional stores. But what happened was, right after we launched with them, they sold six months worth of inventory and we were not ready for that (laughs). And we also got a purchase order for 100 doors! Fast forward, it's not been four years and it would be hard to find another niche-indie brand like ours. For a brand to go from 0 to 600 stores with only 15 employees, some may call it crazy but for us, having such a strong partner with Sephora around the world, it's unheard of for a brand to grow this fast.
And is it true that you don't have a budget for advertising?
We don't spend a single dollar on advertising. All of our business is word of mouth and what happens when you go and look at that is that you'll see people who buy their products, and they did it on their own and those are the people on our Instagram. They've hashtagged and styled their Commodity and then we regram it, and that's how we've grown the brand.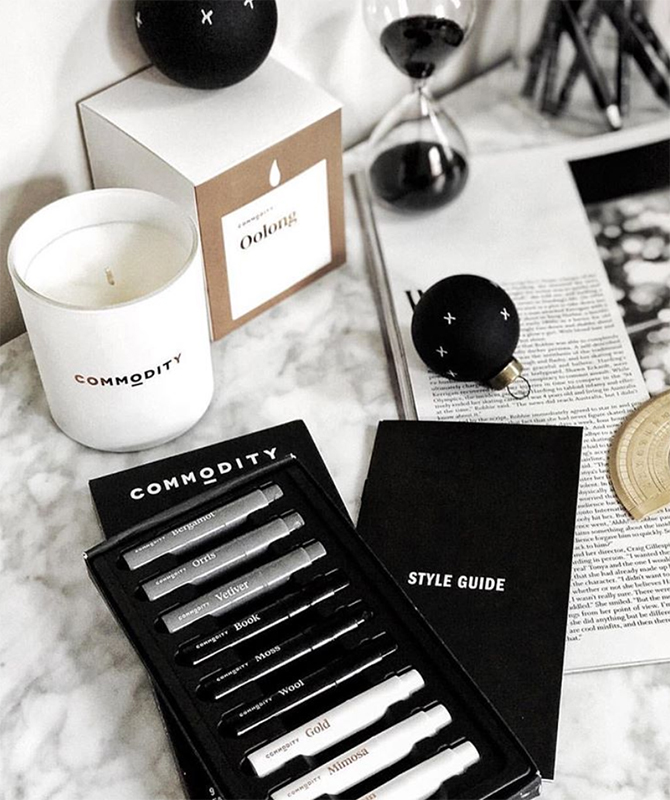 You've never had a background in this industry either, correct?
I am not a perfumer. I'm a collaborator and I really enjoy building a great team of artisans that get the freedom of doing what they want to do. I am the complete opposite of what you would expect to create this brand. What I wanted to do was create a lifestyle brand that stripped away marketing and that gave people who create amazing, luxurious products, the spotlight. When you walk into the store, you're almost going to have no idea who the initial craftsman was who created the fragrance. At Commodity, I wanted to make sure that the people who actually put in the hard work, who made the product, are the ones that get the credit.
The Commodity scents aren't created by only one perfumer per scent. Why was it important to have several perfumers come together for one creation?
We've got 12 (laughs). When you look at the brand, there's no similar DNA from one fragrance to the other. There's such a broad spectrum of DNA that there's going to be something that you love. The perfumers also get to name the fragrance. As long as it's less than eight letters, one word.
Talk us through the minimal packaging of the products…
So we wanted to package everything in a minimalist way that didn't impact the perception of the product before the person had the time to experience it. We made all of our packaging recyclable because we know that you're going to throw it away. I can't wait for you to put your nose to it and you have this 'WOW' moment and you're going to have all of these things that go through your scent memory and will remind you of a certain place and time. We want this to become your story and not our story.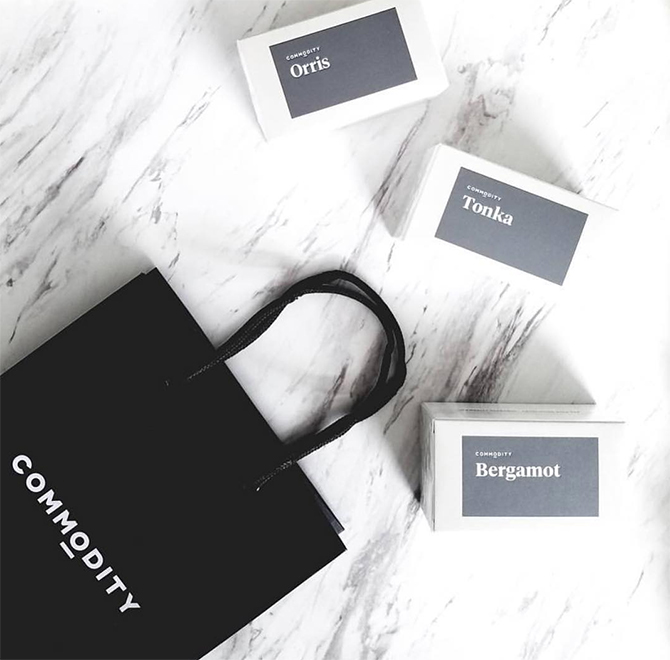 This is your first launch in the Middle East. Why was it important for you to branch out into the region?
Dubai is right for any fragrance brand, at any time. It's not necessarily true (laughs) but I'll tell you a little side story. I get weekly sales reports and one day, I was looking at a sales report in the US that spiked really high, and I dug into the numbers because I thought there must be an error. So I look and it was the Los Angeles market and New York market. It turned out that somebody from Abu Dhabi and somebody from Doha walked into a Sephora store in Beverly Hills and showed on Instagram our brand, and the salesperson said: "Yes we do, we have it here" and they didn't know what their niece wanted specifically and ended up buying everything. They didn't buy just one of everything. They bought the whole store out and all inventory! They later sent their entourage around and bought all of the product from the other stores around them. This happened in Los Angeles and in New York. So I was thinking, maybe we need to go to the Middle East! (Laughs).
Whilst launching here in the Middle East, was there anything you learned about the fragrance industry?
Fragrances are so important here that it's really about how they were raised and what is important to their families. I've heard stories of people literally having perfume refrigerators in their cars in the Middle East (laughs), or that they'll take a special trip every year to Egypt or somewhere to get a particular sandalwood oil or something. Then they'll come back and basically make it at home or something, based on the essential oils. It's amazing!
What else can we expect from Commodity Fragrances in the near future?
In 2019, instead of collections, we'll go into just one bottle and make it more minimalist. Especially when we come out with skincare in mid-2019. Everything moving forward will also be made in France. Also, in Ramadan next year, in May, we'll be giving out 26,000 10ml sprays away.
Commodity will launch in all 64 stores on the same day and on Sephora online in the Middle East as National Day, December 2.
Now, read our interview with Tarte Cosmetics' international brand representative, Nancy Bassuday.