The fash pack came together for another round of coveted shows over the weekend at Milan Fashion Week and there was a slew of noteworthy styles that we had to dissect. From show-stopping moments at Moschino to achingly cool silhouettes at Fendi and Emporio Armani's memorable showcase (and celebrity performance), here are the top shows that took place over the weekend…
Salvatore Ferragamo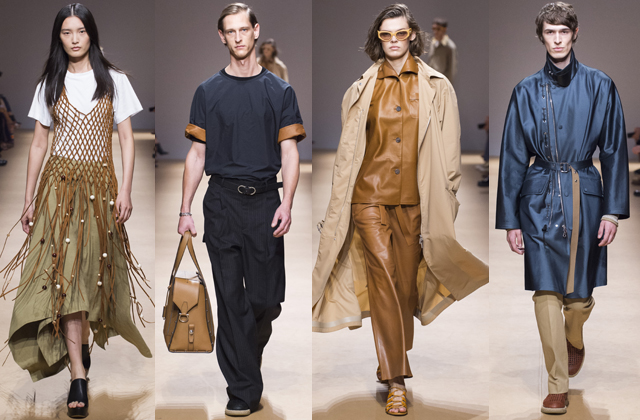 What you need to know: Showcasing a co-ed runway collection, Paul Andrew and Guillaume Meilland (Ferragamo's respective women's and men's Creative Directors) joined forces to unveil perfectly tailored ensembles ready for the Spring/Summer '19 season. Sticking to a strict colour palette of dusty neutrals and rich jewel tones, the collection was minimal yet striking, full of outerwear styles, safari-ready ensembles and business-appropriate silhouettes, all complete in the brand's sophisticated aesthetic.
Front row celebrities: On site to celebrate Salvatore Ferragamo's new seasonal collection were Academy Award-winning actress Julianne Moore, Armie Hammer, Ellie Bamber and Heart Evangelista.
Philosophy Di Lorenzo Serafini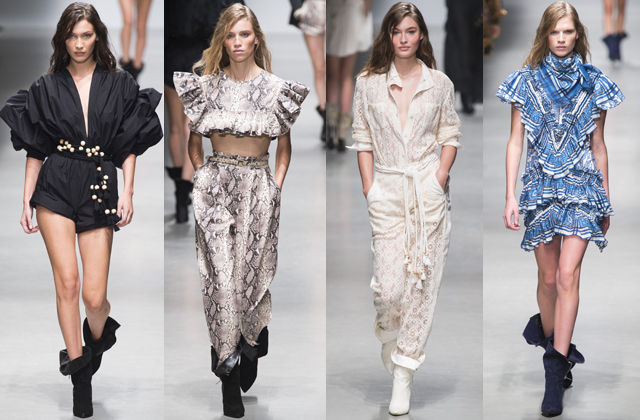 What you need to know: It was the ultimate cool-girl gang that walked Philosophy Di Lorenzo Serafini's runway show over the weekend. The collection was inspired by a trio of different references — the '80s, androgyny and bohemian flair — and as such saw models dressed in poplin dresses, printed snakeskin separates and pieces finished with eye-catching blue stripes, chunky beads and embellishments.
Army finale: The captivating showcase ended with all of the models, led by Bella Hadid, marching the catwalk.
Roberto Cavalli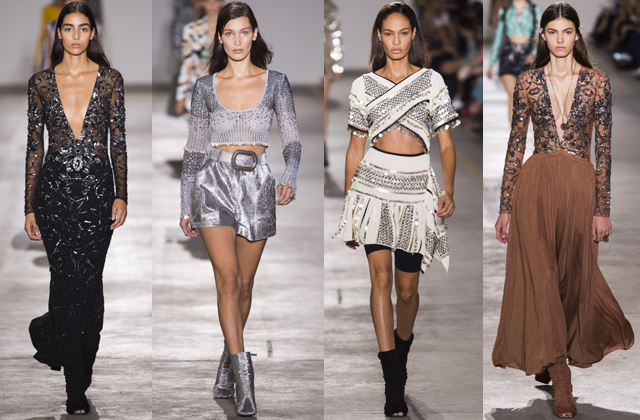 What you need to know: We've seen biker shorts on the likes of several trendsetters whilst rounding up our favourite street style looks and now Roberto Cavalli has made them high fashion. Paul Surridge hid the cycling shorts underneath ruffled tunic tops, fitted dresses and skirts, but he also cited North Africa with piece complete in a desert-inspired colour palette with animal and tribal prints and lots of rustic weaves and embroideries.
Model line-up: Along with British-Moroccan model Nora Attal, there were a slew of famous models walking the runway including Gigi and Bella Hadid, as well as Joan Smalls.
Versace
What you need to know: For this season's collection, Donatella Versace focused on diversity and created a collection that was fit for everyone. Forgoing much of the logomania that has filled previous seasons, the S/S'19 range saw a reworking on the brand's microfloral prints, a more upbeat colour palette, clunky sneakers, denim separates and Versace-printed scarves.
In case you missed it: This year's beauty looks were less out-there than in previous seasons. Taking a simpler approach to beauty this season (particularly in the hair department), models traded in mega blowouts for sleek, straight hair.
Max Mara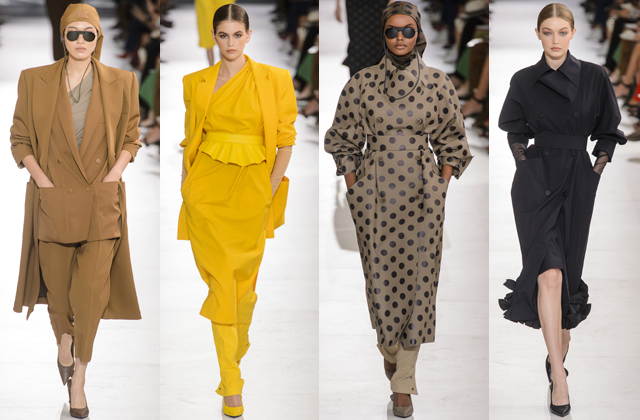 What you need to know: The popular Max Mara trench coat got a rework this season and it seems like it just keeps getting better and better. With more exaggerated features including striking collars, ruffled detailing on the shoulders, hoods and prints, the trench coats are joined by tailored pantsuits, one-shoulder dresses, oversized shirts and jumpsuits.
The cast of models: A firm favourite on the Max Mara runway, hijabi model Halima Aden, was spotted alongside Karen Elson, Joan Smalls, Saskia de Brauw, Kaia Gerber and Gigi Hadid.
Fendi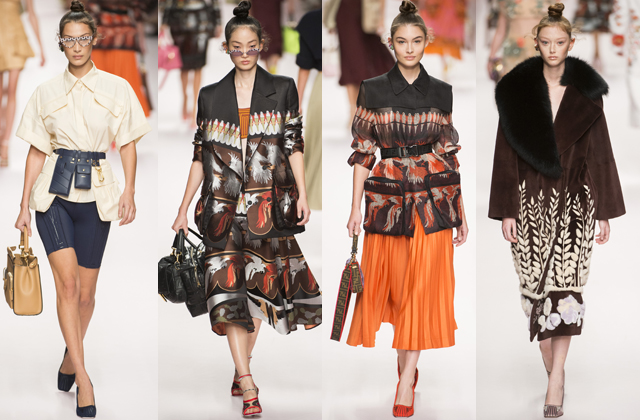 What you need to know: There was dramatically less logomania on the runway at Fendi this season. Instead, the collection consisted of softly-muted monochromatic looks, striking silhouettes and denim with pieces finished with botanical embroideries and tribal-like prints.
Fur focus: Whilst a lot of its cohorts are opting to go fur-free, Fendi continued to show fur this season, sending down a total of four looks that were made using fur.
Prada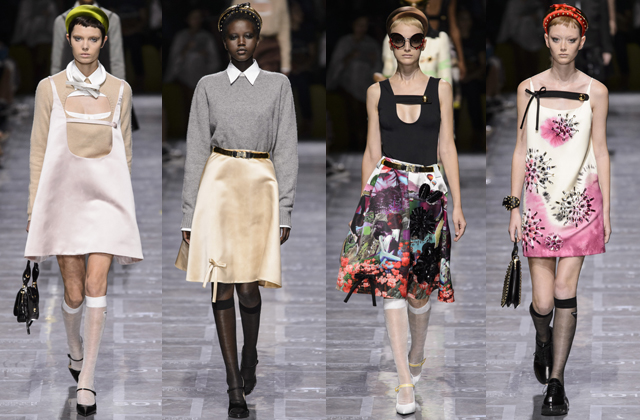 What you need to know: It seems like Miuccia Prada dedicated her latest showcase to the younger generation by sending cycling shorts, A-line tunics, baby boll dresses, bodysuits, knee-high sheer stockings, cashmere sweaters, double-breasted jackets and tie-dye circle skirts down the runway for S/S '19.
A detail you might have missed: The new multipurpose performance space at the Fondazione Prada has officially opened and Prada held its Spring/Summer '19 showcase there. Whilst everyone was seated in their designated positions on either side of the runway, the crowd noticed that the floors were marked with geographical coordinates that marked the exact place in the world each one of the guests were seated.
Moschino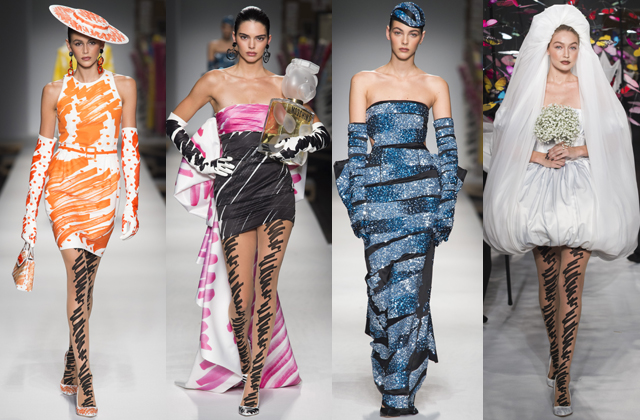 What you need to know: Moschino's colourful collection unfolded on the runway over the weekend and it was certainly a show not to be missed. Telling the story of how Jeremy Scott brings his creations to life (from the sketches to sourcing fabrics), the collection consisted of '80s-like silhouettes including short cocktail dresses, elbow-length gloves, tights, hats and eye-catching accessories.
Key details: Kendall Jenner unveiled Moschino's newest scent as she walked down the runway (she was holding the giant, teddy bear-shaped bottle of the Toy 2 fragrance) whilst Gigi Hadid's show-stopping finale moment wowed the crowd as the model wore the traditional closing bridal gown which came complete with an ethereal train of butterflies that were suspended by puppeteers.
Emporio Armani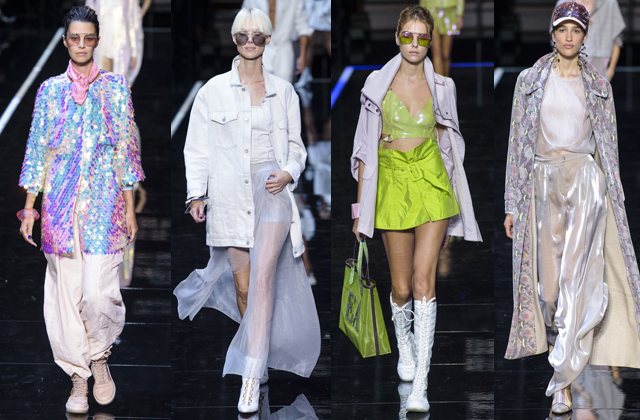 What you need to know: Over 150 looks took over the runway at Emporio Armani's show. Befitting of its location, the co-ed Spring/Summer '19 collection was filled with pieces for your next holiday. The connection between past and present was highlighted through sequinned jackets, linen skirts, cotton fabrics, lightweight trenchcoats, high-waisted trousers and tailored jackets.
Show location: Giorgio Armani took the fash pack to the hangar of Milan's Linate Airport to showcase his latest collection. Successfully delivering a standout spectacle for his 2,300 guests, the show marked the first time a fashion brand has ever hosted a show at an airport. Also, Robbie Williams closed the show with a special performance.
Now, take a look at some of the best collections from day one of Milan Fashion Week.