The fash pack is currently in London to witness the unveiling of Fall/Winter '18 collections and there were five shows in particular that stood out. From Roksanda to Erdem, David Koma, Christopher Kane and Emilia Wickstead, here are the collections you need to see…
Roksanda
What you need to know: Nominated for British Womenswear Designer of the Year at the 2017 Fashion Awards, Roksanda Ilincic directed her focus to create effortless, sharp and structured silhouettes for the F/W '18 season. Creating a collection that allowed women to dress for real life, the designer explained that the collection "was a big cast, with clothes that a woman needs from the morning until the evening – all the time. I think I am a designer who always cares about women and how to dress them. I want to protect her and shelter her," Ilincic said, according to WWD.
Wish list item: Perfect for tackling the chilly weather, on display was a selection of sharp camel coats that added volume to any ensemble worn underneath. Complete with a strip of red on the back or sleeves, this piece is a different take on your typical winter coat.
Erdem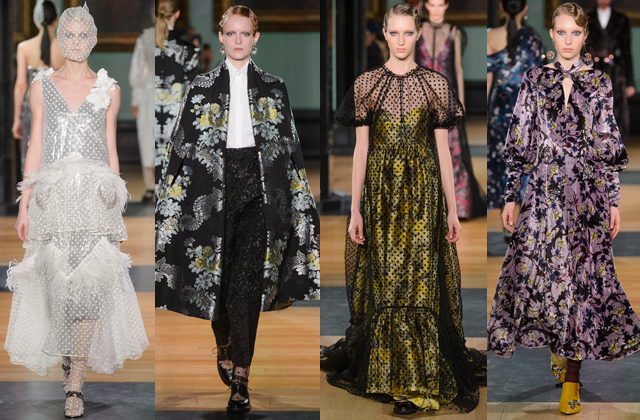 What you need to know: Erdem Moralioglu continued to embrace his signature florals for F/W'18 and as expected, it was ultra-romantic. Looking towards the spirit of American dancer Adele Astaire, Moralioglu sent jacquard dresses, sheer polkadot veils, velvet ensembles, capes and a lineup of silver sequined skirts and dresses down the runway.
What you might have missed: Each of Erdem's pieces was a standout on its own but it was the beauty looks that forced us to do a double-take. Debuting a new collaboration at the show, Erdem revealed he has teamed up with Nars to create a series of runway-ready products that were used on the models.
David Koma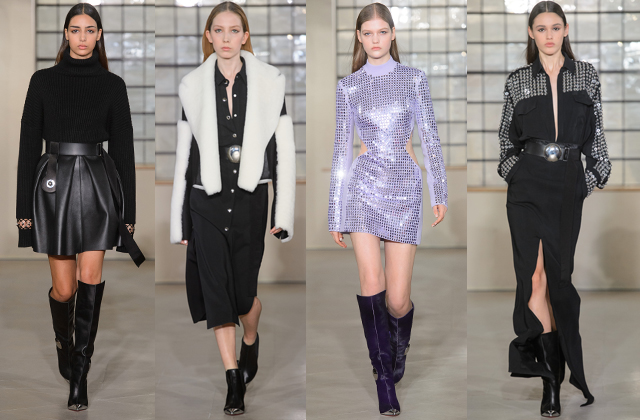 What you need to know: In a strict autumnal colour palette (think black, maroon, white and hints of lavender), David Koma's Fall/Winter '18 collection was also imbued with traditional Native American influences. The range came complete with rich macramé embroidery, laser-cut mirror embellishments and shiny accents (hello silver belt buckles!) that made his pieces standout.
Middle Eastern moment: Moroccan model Nora Attal has walked a slew of runways this season and she opened Koma's show in an all-black ensemble.
Christopher Kane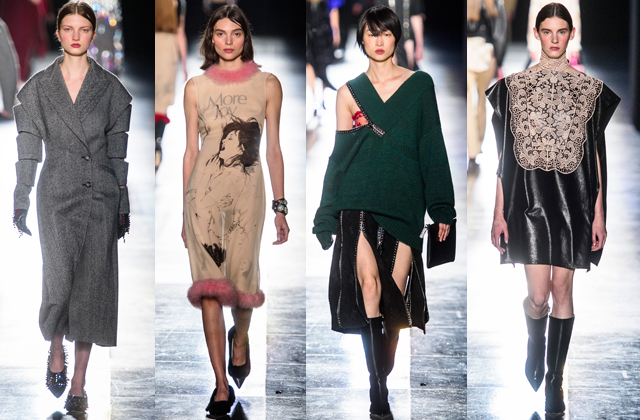 What you need to know: Christopher Kane took a sexy and androgynous approach towards autumnal dressing this season, complete with strong leathers, colourful pieces made of lace, cage dresses, silky slips and deconstructed fabrics. Whilst there were modest cuts such as the grey overcoat (top left), there was also semi cut-outs on skirts and sweaters.
Screenshot-worthy piece: The designer's high-collared leather tunic (top right) mixes a bohemian-esque aesthetic with sophisticated chic.
Emilia Wickstead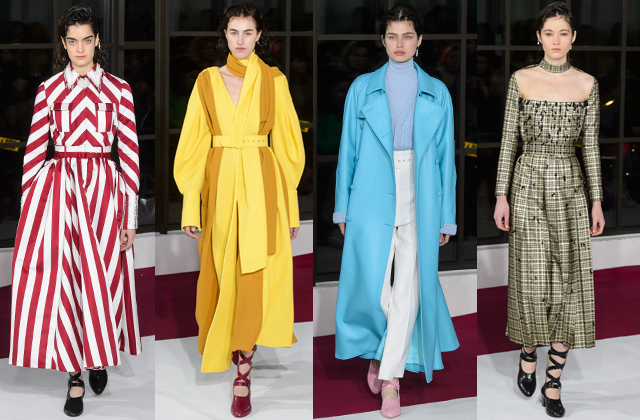 What you need to know: This season, Emilia Wickstead opted for a more conservative (but still playful) direction for autumn/winter. Bright hues ruled the runway as the designer mostly used primary colours for her ensembles. Printed silk dresses, oversized bib collars, billowing sleeves, denim and modest silhouettes were collection highlights.
In case you missed it: Wickstead used her collection to tell the story of Ali MacGraw in the 1970s classic film Love Story. The character was the designer's muse for the season and the references were evident in the choice of fabrics and patterns.
Now, take a look at the highlights from day three of London Fashion Week.